Shopping Cart
Your Cart is Empty
There was an error with PayPal
Click here to try again
Thank you for your business!
You should be receiving an order confirmation from Paypal shortly.
Exit Shopping Cart
Introducing the Cleansing of the Temple Empowerment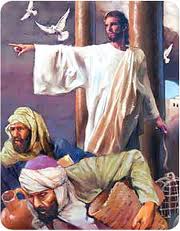 NEW from Masters Healing Light Academy
The Ascended Master Jesus provides this energy to cleanse our temples - our mind, body and spirit, our energy bodies, aura, chakras, heart, all that comprises our 'temple' - the place where the Divine indwells, as our temple is the dwelling place of the Divine, as we are living tabernacles of the Divine Source. The Cleansing the Temple Empowerment cleanses the sacred space of our souls. The power of Ascended Master Jesus and the Divine Source are manifested in us through the energy to cleanse and purify us that our joy may be complete. In this way, we are a living temples of peace and love.
The purpose of this empowerment is to restore your temple to a vessel of love, healing, service, virtue, praise, Godliness and prayer. This gift is given in order that you can preserve and cleanse your temple, your inner sacred space, so that your sacred space is sacred!
The energy cleansing clears unhealthy habits, beliefs, behaviors, emotions, thoughts, that do not serve you any longer purging what does not belong. This energy can be used to cleanse and clear your temple, the temple of others, or any sacred space, such as a home, office, meditation or healing room, etc. The energy works powerfully to remove any lack of sacred space in your life so that you can reclaim your sacred space. Ascended Master Jesus lends His energy in any sacred space to sweep, cleanse, and toss out anything that is less than love.
As a result of working with the energy of the Cleansing of the Temple Empowerment you will experience deep and profound healing in such a way that you can love and nurture yourself again and restore the flow of love, abundance and all good things in your life and path. A Higher awareness of the inner source of infinite power, courage, love and compassion will result.
This beautiful energy encourages Godly living and will inspire you to Love Thy Neighbor. It supports you in displaying genuine love and concern for your fellow man.
You will find that you have more patience with people who are difficult to get along with or perhaps different than you in some way. As you work with this energy you will produce seeds of divine attributes such as humility, patience, love, respect, tolerance, honesty in business, etc.
The Cleansing of the Temple Empowerment is useful to clear trauma of any time you were let down by a person that you trusted. Cleansing will take place of memories, traumas, visual images that are painful or unclean so that the mind is purified and renewed.
When you receive the Cleansing of the Temple Empowerment the energy is very tranquil, creating an almost hypnotic and peaceful atmosphere around you similar to just sitting by the ocean and observing the beauty and majesty of the landscape all around you. Its power will take you to a very special place in communion with Ascended Master Jesus in His Healing Temple.
Christ will soothe and relax you bringing you love, comfort and embracing joy. Some experience a conversation with Master Jesus, some see an image of His Face, others will feel or sense His Presence, but all will know they have been healed by the Ultimate Healer.
There are several areas of your temple that Ascended Master Christ Jesus lends this energy to use. The Cleansing of the Temple Empowerment is given to cleanse your entire temple, your inner and outer sacred space. The Cleansing of the Temple Empowerment works on many different levels.
Physical Body
The energy will run to return your physical body to optimum health. This will give your physical body an extra Divine helping hand to bring the body to optimum health. The energy will move through the body like an ethereal herbal cleanser. It will connect you to the Divine's grace as bread from Heaven to nourish and feed you.
Cleansing of the Temple - the Mind
The energy will clear and cleanse the mind so that all that causes limitations in thinking is washed away. You will be strengthened by the renewal of your mind.
As a result you will experience many benefits. Here are a few.
Develop the art of listening to your intuition
Become more tandem with your free mind
Receive messages from the subconscious mind
Hear the Still Small Voice of the Divine
Notice when your intuition is sparked
Enhanced ability to quiet the mind
Condition the mind to listen
Sense energy on a subconscious level
Experience deeper states of meditation
Be taken into infinite dimensions of consciousness
The Spirit
As the Universal Power of Christ flows through your spirit, beliefs which do not serve you any longer and the tendency to honor them will leave you. This Cosmic Cleansing will work on your consciousness and awareness so that you see that you are a part of the Universal Cosmic Energies. Ascended Master Jesus will take you into Healing Temple where you will experience a calm, accepting and spacious awareness of your Core, True, Divine Self in Union with Christ and the Divine and encounter the Divine in your inner being.
The Heart
During the Cleansing your heart will be purified and cleansed so that you are able to attain higher and more Divine/Godly attitudes and attributes. Ascended Master Jesus will fill the heart with loving light. This light will enter like the rising sun and your heart will radiate love and you will be purified able to experience pure and holy communion with the Divine Source.
Chakra System and Aura
The energy will move through the Chakra system, and the energy field that surrounds you, your Aura. This is both an inner and outer cleansing. Anything that is not functioning as it should will be restored to its proper function. Any holes in the Aura will be repaired. Ascended Master Jesus' energy will work in and through the energy systems, inwardly and outwardly so that your energy bodies and chakras are in pristine health. This energetic lift from Master Jesus will assure that you are clear, cleansed, and balanced energetically.
Environment
Cleansing of the Temple - Environment
This energy can be activated for the purpose of cleansing any area, room, office, home, automobile - any sacred space you inhabit, visit, or use.
During the cleansing the energy will transmute, transform negative, residual and stagnant energy into positive and welcoming energy providing you with a clean, pristine, clean slate to create your potentials. It will cleanse and remove impurities of any kind and enhance the quality of the energy so that you are one with your immediate environment and sacred space. The energy will drive out negative influences left by negative energy, and drive out any negative spirits present.
The energy of Ascended Master Jesus will fill the space with the energy of His Love, Light and Protection raising the vibrations of the energy around you.
There is so much MORE that this energy can do!
Keep the mind open, and think of the many ways/areas that this energy can be expanded to any Sacred Space or Temple in your life!
Copyright ©2013 Masters Healing Light Academy
/